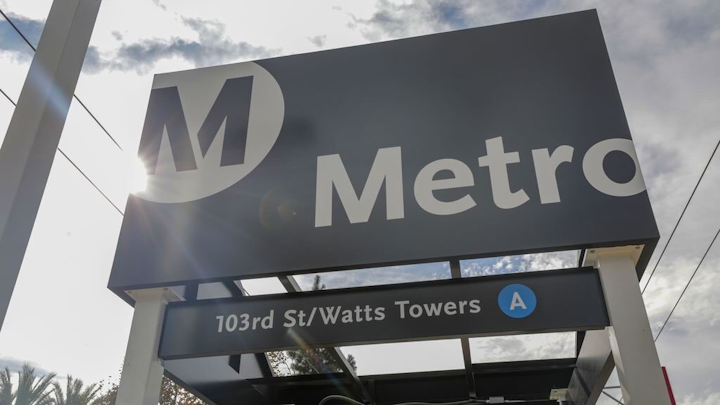 L.A. Metro Twitter
Los Angeles County Metropolitan Transportation Authority (Metro) CEO Phillip Washington, L.A. Metro Board members and local stakeholders celebrated the reopening of the A Line with a ribbon-cutting ceremony Nov. 2.  
The A Line is reopening after the completion of the $350-million New Blue Improvements Project's northern segment between 7th St/Metro Center and Compton Station. The project brings L.A. Metro's oldest rail line up to specifications of L.A. Metro's newer rail lines and is intended to enhance the customer experience for riders. 
"Metro's A Line is back up and running between Long Beach and Los Angeles and this vital work ensures that riders will have a more reliable and pleasant trip," said Metro Board Chair and Inglewood Mayor James Butts. "The work over the past nine months hasn't been easy and we appreciate everyone's patience. We believe strongly that this work will improve the quality of your commute."  
The improvements to the A Line increase reliability with four new crossover switches, an upgraded train control system, a new overhead power system and in some sections new rail tracks. Station upgrades included new IxNTouch information screens that will help riders navigate the L.A. Metro system, new station identifiers and wayfinding signage, refreshed paint and landscaping and new digital artwork.  
"Metro's State of Good Repair program improves the transit lines and equipment that we already have and allows us to offer quality service to all communities in the Los Angeles region and especially for people who are transit-dependent," said Metro CEO Phillip Washington. "This work will allow the A Line to deliver a high-quality transit experience for many decades to come."  
New digital amenities
L.A. Metro also unveiled new digital amenities, including a digital communications and advertising network and its new digital art portrait series as part of its "New Blue" Improvements Project.  
Customers riding the line between Long Beach and Compton Stations will see new IxNTouch information screens at each station – nearly 100 in total. These screens, — developed in partnership with Intersection, a leading media and technology company — will allow L.A. Metro to communicate with customers across a growing network of digital screens and help customers better navigate the agency's transit system.  
The interactive touch screens will give riders greater access to train and bus arrival times, service alerts and advisories, and system and community maps, among other digital tools. Once complete, the network will allow L.A. Metro to target information and messages systemwide by line, by station and individual station screen.  
"We are incredibly proud for our riders in Los Angeles, South Los Angeles, Watts, Willowbrook, Compton, Rancho Dominguez and Long Beach to be the first to experience these new digital amenities," Butts said. "And we can't wait to expand these screens throughout our system in the very near future."  
The screens will also host L.A. Metro's first-ever digital art portrait series on the completed A Line, "More People Than You Know."   
The digital displays along the A Line come at zero cost to taxpayers or riders because it is paid for by advertising revenues. By delivering useful and relevant information to riders, Intersection's media assets are highly noticed and offer national and local brands the opportunity to engage consumers with system advertising opportunities, according to L.A. Metro. Intersection has committed to investing nearly $20 million in digital equipment on the L.A. Metro Rail system at no cost to the agency.    
"One of Metro's key goals as an agency is creating outstanding trip experiences for everyone who uses our system," Washington said. "These new displays and this new digital portrait series are just the beginning of our plans to truly enhance the experience of taking Metro as we work to create the transportation system of the future."       
In January 2018, L.A. Metro awarded Intersection and OUTFRONT Media each 10-year licenses to sell and display advertising on the L.A. Metro Rail and Bus system, respectively. The contracts are expected to reduce L.A. Metro's costs by securing free advertising space without the need for L.A. Metro to incur printing, production or installation costs for the agency's own ads. This will save L.A. Metro approximately $30 million over the life of the contracts.
The new contract will also generate increased ad revenues — a guaranteed $262.2 million from OUTFRONT Media on the L.A. Metro Bus system and $42.9 million from Intersection on the L.A. Metro Rail system over the next 10 years to help sustain L.A. Metro's current and future operations and transit system expansions.   
The screens will be phased in by 2024 across the entire L.A. Metro Rail system, the Orange Line and Silver Line and will be located on station platforms, mezzanines and plazas, with at least two screens at every station. 
Willowbrook
/Rosa Parks Station
The rail platform for the A Line at the busy Willowbrook/Rosa Parks Station also reopened Nov. 2 with access to the Green Line platform. The station has been closed since late January while undergoing a major renovation. Work will continue on the project after the station platform reopens.  
New naming convention for L.A. Metro system
With the completion of the New Blue Improvement Project, L.A. Metro's new rail and bus rapid transit line renaming convention will go into effect with L.A. Metro's Blue line now being referred to as the A Line. This begins a three-year process to rename all L.A. Metro Rail and Bus Rapid Transit lines by 2022.  
Under the new system, each L.A. Metro Rail and Bus Rapid Transit line will be designated by a letter and color. The Metro Board of Directors approved a new line naming convention in November 2018, citing the need for more consistency as the system grows.  
The new naming convention helps alleviate several issues. In the past, most L.A. Metro Rail lines were named after colors except for the Expo Line and the Crenshaw/LAX Line that are named after street names and places — which riders may find confusing. L.A. Metro's system map has also been reliant on colors and can be difficult to read for those who are color blind. Adding letters will help avoid this problem.  
"It is important that we have one consistent systemwide naming convention that is simple, easy to read and use," Butts said. "Letters combined with colors will make it clearer to residents and visitors who use our system."  
Starting with the A Line, most station signage will simply show the letter A within a colored dot. The rest of L.A. Metro Rail and the Silver Line and Orange Line will transition to the new naming convention when the Crenshaw/LAX line opens. The Crenshaw/LAX Line currently does not have a letter name as L.A. Metro's operation staff is still working on finalizing the line's operational plan.  
"We believe this is great news for the region because we have big plans for new rail and bus rapid transit lines in the years to come," said Metro CEO Phillip A. Washington. "This new naming convention will help keep our system easy to navigate and make it more user friendly — and, thus, improve the customer experience."  
Under the new naming convention, the Red Line will eventually become the B Line, the Green Line will be the C Line, the Purple Line the D Line and the Expo Line the E Line, to name a few examples. The Gold Line will become the J Line until the Regional Connector opens and ties together the Blue, Expo and Gold Lines. The eventual Azusa to Long Beach line created by the Connector will be known as the A Line while the East Los Angeles to Santa Monica line will be the E Line.