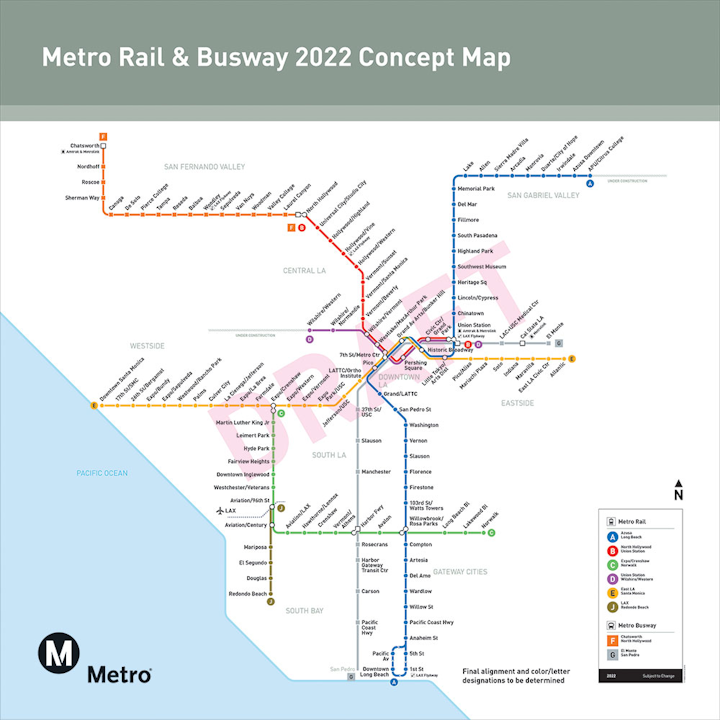 Los Angeles County Transportation Authority
A plan to phase in new names of Los Angeles County Metropolitan Transportation Authority (L.A. Metro) rail and bus lines using a combination of colors and letters gained the approval of the transit authority's board on Dec. 6.  
A mid-November staff report noted that L.A. Metro's current transit line naming convention is inconsistent and, with the agency's system continuing to grow, sticking with the color-only names will force line names in color shades, which the report said can pose visual and language barriers.
The report also mentioned that the agency's eight rail and bus rapid transit lines will undergo expansion with the passage of Measure M in 2016, making the establishment of a new naming convention a key element to ensuring the system remains easy to understand.
L.A. Metro staff gathered feedback from the public, which perceived two naming options to be easier to use: Colors & Letters and Colors & Numbers as both help with navigation and are consistent and simple.
Staff recommended letters over number to minimize confusion with bus numbers and platform numbers. Staff also recommended a phased approach that would help save money and begin making the change as new rail lines debut. Renaming will begin with the Blue Line (which will be the A Line) and Crenshaw/LAX Line (C Line).