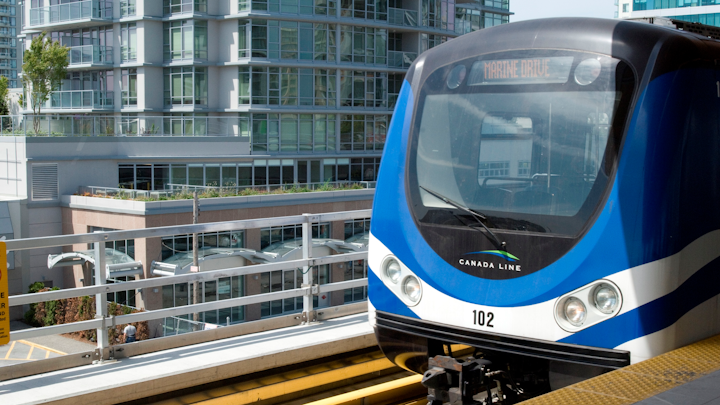 City of Richmond Twitter
The city of Richmond, British Columbia, Canada, has transferred C$28 million (US$21.462 million) in developer-supported funds to TransLink to support the construction of the new Canada Line station coming to the city.
The long-envisioned Capstan Station will be built in the area of No. 3 Road and Capstan Way in Richmond, between the existing Bridgeport and Aberdeen stations. Its construction results from a 2012 agreement that would see a new station added to the Canada Line to support growing development in the area once funds were raised.
"This is an excellent example of how the city of Richmond works with developers and partners such as TransLink to build strong communities," said Richmond Mayor Malcolm Brodie. "Parks, trails, recreation facilities and even green spaces are often created by developers who are building higher density communities in urban areas. Now, through a shared vision and this precedent-setting agreement, we have an important transit location as well."
With more than 6,000 residential units being built in and around the Capstan Village area, the community will benefit from the transit access the new Canada Line station will bring, as it will provide an accessible, sustainable mode of travel to support urban lifestyles.
"The Canada Line has been a tremendous success story for this region, with around 90,000 people now using the system each weekday," said TransLink CEO Kevin Desmond. "Strong ridership growth has spurred on an astonishing amount of property development, so partnering with the city of Richmond and leveraging developer dollars to help fund a new station is an important model for transit infrastructure enhancements."
Work to explore concept design options for the station commenced in 2017 with the transfer of C$1.1 million (US$843,172) from the city of Richmond to TransLink. Further work will now be undertaken to finalize the station design. The project is expected to be complete around mid-2022.