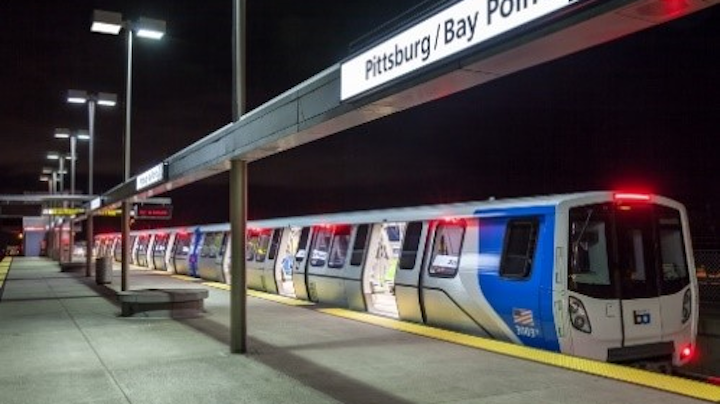 Bay Area Rapid Transit
A fatal accident on the morning of May 29 that closed the Bay Bridge in San Francisco is bringing the need to progress the Bay Area Rapid Transit's (BART) Transbay Core Capacity Program. BART says its at-capacity system carried more than 10,000 additional riders between Oakland and San Francisco due to the accident on the bridge.  
"The commute that the Bay Area experienced [the morning of May 29] shows how one accident can impact tens of thousands of people," said BART General Manager Grace Crunican. "It's also a reminder of the vital role BART plays in getting people across the bay. We're seeking long-term relief for commuters. We can accomplish that by securing federal funding. We can't wait any longer, our system is already at capacity."
BART says it daily carries up to 28,000 people per hour during the commute under the bay compared with only 14,200 people per hour who are able to drive across the Bay Bridge.
BART's Transbay Core Capacity Program consists of several strategic investments that would boost overall capacity by 45 percent and increase the train frequency between San Francisco and Oakland by more than 30 percent. Following full implementation, BART will be able to operate up to 30 ten-car trains per hour (300 cars) in each direction through the existing Transbay Tube. BART's current capacity is 23 trains per hour through the tube. BART says it will require 306 new rail cars, a new train control system for closer headways, a new railcar storage yard and more traction power substations to realize the capacity relief.
BART has lined up $2.3 billion in secured or planned local funding but needs $1.25 billion dollars more from the federal government through a Capital Investment Grant (CIG). According the Federal Transit Administration's (FTA) project profile of the BART Transbay Core Capacity Program, the project entered Core Capacity Project Development of the CIG program in August 2015. The project carries an overall rating of "High" and BART anticipates entry into Engineering in early 2019, receipt of a Full Funding Grant Agreement in December 2019 and completion of the project in late 2026.
"BART has secured local and state funding for the project," said Crunican. "BART District voters approved money for core capacity when they passed Measure RR. BART riders are contributing money to the project through their fares. Now it's up to the federal government to do its part and take action."
BART says it is ready to move this project into the engineering phase but needs approval from FTA before it takes that step. The CIG program contains rigorous standards project stakeholders must meet. BART claims the project has been delayed by the FTA for more than a year and the agency estimates that every year of delay will cost taxpayers $120 million annually.
California's U.S. Senators Dianne Feinstein and Kamala Harris along with seven U.S. Representatives from the Bay Area recently wrote to U.S. Transportation Secretary Elaine Chao in support of the project and asked the FTA to move the project forward: "It is our understanding that BART's Transbay Corridor Core Capacity project has satisfied all the requirements laid out in statute for advancement and has even received the highest possible technical rating – the only project in the program's pipeline to do so," they wrote.
The Transbay Core Capacity Program was the only project among CIG accepted projects classified as New Starts and Core Capacity Projects to earn an overall project ranking of "High;" four Small Starts Projects also received an overall project ranking of "High" in the FTA's FY2020 Annual Report.