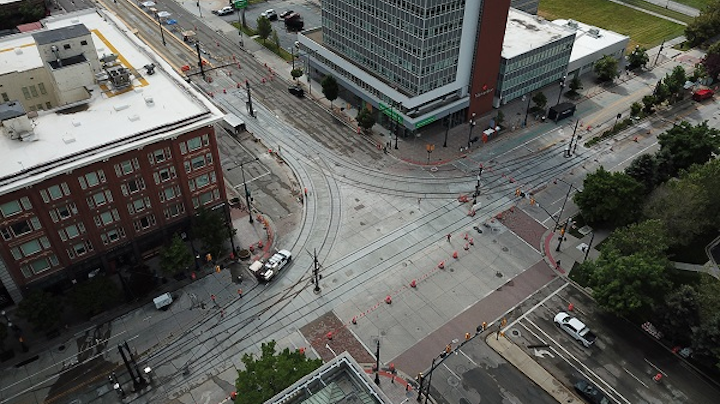 Utah Transit Authority
One of the largest construction projects Utah Transit Authority (UTA) has taken on in the past 10 years was successfully completed June 2.  
Following 18 years of use and 1.85 million TRAX trains, UTA planned a replacement project for the tracks and switches on Main St. at 150 South and 400 South. The 27-day, three-phase project required two years of planning with Salt Lake City, Utah Department of Transportation, Downtown Business Alliance and the Davis Chamber of Commerce to determine traffic modeling, windows of construction and impacts to Northern Utah businesses and residents. UTA said it coordinated and presented to hundreds of businesses determining parking, business access and operating hours to ensure their customers and employees could continue to access every restaurant, attraction, financial institution and the courthouse.
The project's time frame, May 4 through June 2, was selected as it fell between the University of Utah graduation and the Pride Festival.
Pre-construction work began in mid-April to help speed the construction process along with Phase 1 beginning on May 4 with the demolition and excavation of the east, west and north tracks at 400 South and Main Street. Construction on the first phase was completed two days early. Phase II was completed in five days and consisted of the final construction of the 400 South and Main Street intersection, as well as replacement of four switches between 100 and 200 South on Main Street. Phase III of the construction process began on May 27 and saw construction crews complete the removal and rebuilding of four additional sets of tracks between 100 and 200 South on Main Street.
UTA said riders, drivers and local businesses returned to business as usual on Saturday, June 1, with every TRAX station and road open.
"The numbers are staggering on the amount of time and effort that went into making this process as painless as possible for riders and drivers. Over 157 volunteers donated 6,135 hours of their time to help guide riders to their next destination, 118,000 water bottles were handed out and recycled, customer service only received six complaint calls and an unprecedented 11 calls to share positive remarks, and we completed project that usually takes two months in 27 days," said UTA.