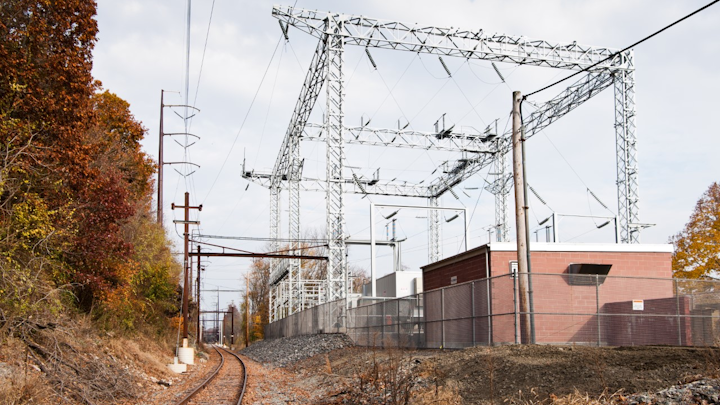 Burns Engineering
Light-rail and streetcar systems are growing in the U.S. Since 2016, there have been approximately 18 systems that have come online or been expanded. This rail resurgence is also propelling a growing interest in the best way to power these lines. Mass Transit reached out to several companies that provide rail traction power systems to see where they see trends developing and how their solutions are helping transit providers become more efficient with their energy consumption. 
Energy storage
ABB reports transit agencies are increasingly interested in energy storage as a significant way to become more energy efficient. The company offers a wayside energy storage system (WESS) to help them accomplish the task. The battery energy storage system, or a combination of batteries and supercapacitors, is located as part of the traction power substation and captures energy from braking trains that would otherwise be lost and delivers it back to trains as they accelerate.
ABB also notes the operational and economic benefits provided by WESS including the reduction in energy consumption from the grid and associated cost, lower maintenance costs as compared to convention traction power substations, the ability to address voltage sags from the grid at a reduced cost between 40 and 70 percent and provides emergency backup power in the event of a grid blackout. ABB offers the reminder that this last benefit would have been valuable during the 2003 Northeast Blackout when WESS could have brought trains to the next station instead of stranding thousands of transit riders.
In addition, ABB says WESS gives transit operators the ability to sell ancillary services back to the power grid in markets where it is allowed and has the potential to allow transit operators to participate in demand response programs.
ABB points to two real world examples of WESS in operation. Southeastern Pennsylvania Transportation Authority (SEPTA) began its first WESS project in 2012 and, following two subsequent phases, decided to roll out the technology across its entire system.
In a white paper on the project, a SEPTA WESS substation capturing 1.2MWh of energy per day, can deliver electricity at a cost of around $0.06/kWh over a 15-year period or $0.09/kWh over 30 years, the higher figure accounting for additional maintenance costs. For comparison, SEPTA's grid delivered power is $.095/kWh.
New York Metropolitan Transportation Authority (MTA) will launch a pilot project in 2019 with ABB and Viridity that will be funded by New York State Energy Research and Development Authority. The pilot aims to use the stored energy to do peak shaving during periods when rates are highest.
Environmental considerations
Alstom notes the emergence of environmentally-friendly innovations that also address the energy efficiency of rail systems. The company says that the transportation sector in most countries is the second largest producer of environment damaging emissions, which is why environmental considerations among rail stakeholders have been on the rise.
"Such innovations are also transferring part of the electrification infrastructure to the trains themselves, through onboard energy systems, such as batteries or supercapacitors, which also have the benefit of making the trains more autonomous. In parallel, we are seeing requests for solutions that help optimize the life-cycle costs of the transport systems, such as the re-injection of electricity into the rail networks, thus, both reducing CO2 emissions and costs," explained Alstom.
Alstom notes that the development of its Coradia iLint electric train powered by a hydrogen fuel cell is the result of investing to improve the environmentally-friendly aspects of its product and solutions. The train has been running passenger operation since September 2018 and recently toured six states in Germany to demonstrate its capabilities. The company says the Coradia iLint is 100 percent emission free, less noisy and offers comparable acceleration and braking performance to a conventional Coradia DMU. Additionally, Alstom says the train consumes less energy during operations with its flexible energy storage and intelligent energy management systems.
Alstom's Hesop was developed to address energy production and recovery. Hesop is a reversible substation, which allows for the recovery of more than 99 percent of available energy during breaking for reinjection into the electric network.
"Hesop not only provides high quality energy, it also provides dynamic voltage regulation to optimize power use in traction mode and allows for better in-tunnel air quality as braking dust is reduced. In additional to its energy recovering capability, on existing networks Hesop also allows operators to increase traffic density up to 40 percent with the same number of substations," explained the company.
Hesop is in use in Paris, London, Milan, Sydney, Panama and Riyadh. Alstom explains that the Arriyadh Development Authority (ADA) of Riyadh chose Hesop to remove the need for on-board braking resistors and to optimize the power supply architecture of the system. Under the terms of the contract with ADA, Alstom supplied 35 bi-group substations or 70 Hesop substations over the 72.7 km (45.17 miles) of lines servicing 32 stations.
Catenary-less solutions, such as ground-level dynamic feeding (APS), ground-level static charging (SRS) with ecopacks and batteries, are manufactured by Alstom to provide the same power but better aesthetics.
"These off-wire systems provide the same performance as wire systems for a better integration into the urban environment, a factor that is particularly expressed by and important to light rail and streetcar operators who wish to minimize the visual impact caused by overhead lines and poles, as these types of rail systems tend to traverse historical areas and city centers," said Alstom.
Alstom's off-wire systems have been deployed in Bordeaux, Nice and Reims in France; Dubai, UAE; Sydney, Australia and Lusail, Qatar.
Understanding system and client needs
Burns Engineering offers a range of specialized engineering solutions to help maintain, improve and expand transit systems including AC and DC traction power systems. Burns explains that tight capital dollars are producing work calling for the rehabilitation of equipment within a smaller subset of an overall system. The company notes that it is replacing overhead catenary systems a few miles at a time and traction power substations one or two at a time and is also designing larger system extensions in phases.
"The biggest challenge, as is so often the case in large-scale infrastructure rehabilitation, is funding. Given the size and complexity of even the smallest transit operators, the cost to improve the entire system in one sweeping effort is typically cost-prohibitive," said Daren Petroski, PE, vice president and Railroad & Transit Group leader at Burns. "The challenge is to provide the best technology, while maintaining the appropriate flexibility for seamless integration into the older sections of their system, as well as into future upgrades."
In order to provide its clients with the needed technology and flexibility, Petroski says that Burns helps its clients understand the best use of their capital improvement funds.
"We frequently perform State of Good Repair inspections for agencies across the country as a way to document and track system conditions and to determine the remaining useful life of critical system components," said Petroski. "It is much easier to design systematic replacements than to perform emergency repairs that disrupt passenger service. We have a duty to our clients to make the best use of their available funds, so it is important to help categorize and prioritize the work. Even if inspections reveal that the components still have many years of life remaining, this is an important tool for the owner to use to help set their budgets in the coming fiscal years. Second, we are committed to providing the best solutions to our clients. Our staff stay well-trained on the latest technology developments, and serve on IEEE, AREMA and APTA committees, which allow us to keep the pulse of the industry, as well as the preferences of many of the individual agencies."
Next, Burns works with its clients to understand and visualize the needs of the client's system in order to develop a right-size approach.
"New technology allows us to paint a clearer picture to the owner as to what their system may look like in order to best serve the needs of their passengers," said Jonathan Schimpf, PE, project manager at Burns.
Schimpf notes that modeling the system is the first step of any new traction power system and references the adage "only that which is measured can be managed."
"Only through the use of time-stepped dynamic load flow simulations can one accurately size the traction power system," said Schimpf. "Without these simulations, the client runs the risk of either suffering from decreased resiliency in their power system or wasting money overbuilding their system. Along these lines, we help our clients understand the probability and impact of the various failure modes of the critical traction power equipment. While it may have once been acceptable to disregard regenerative braking altogether, this approach marginalizes a significant and reliable power source. It is fantastic to see regenerative braking become commonplace and for on-board or wayside energy storage systems become more prevalent. However, unless these new technologies are properly accounted for, their full impact may not be realized."
Flexible solutions
Siemens Mobility says that it is seeing light rail solutions growing in popularity due to rising city populations and traffic congestion. The company points to Sound Transit's recent LRT expansion in Tacoma as an example where the project helped drive traction power solutions.
"We're glad to see a renewed interest in electrification – especially in markets needing to achieve sustainability targets and increase energy savings through transit," said Andreas Thon, vice president of Turnkey Projects and Rail Eeectrification, North America.
Thon explains that this increase in interest is pushing many transit operators in the U.S. to update and expand their existing electrified networks.
"Unfortunately, some older long-distance rail infrastructure in America remains unelectrified, and there are important challenges associated with integrating or migrating those to any type of electrification solutions. However, it does not impede electrification from being a good option for the future of efficient rail operations," said Thon.
He notes that the biggest trend the company is seeing is a real willingness to take advantage of the full benefits of new digitalized technologies because of how it informs and optimizes overall operations and maintenance.
"Through real-time transparency of information, operators can now bring down the energy supply in all areas, even identifying the optimal point in time for trains to accelerate based on the energy demand of the complete network. This information also helps to avoid power peaks and improves overall cost and energy efficiency," explained Thon. "Of course, with new digitalization capabilities comes a keen interest in better understanding and addressing safety issues and cyber security for rail power."
For Thon and Siemens Mobility, providing more flexible, modular solutions work best due to the unique needs of each customer.
"For example, we provide a plug-and-play compact prefabricated DC traction power substation with all necessary equipment integrated. This solution takes up a smaller space in its container and is easy to move so it can be placed at different locations with less installation effort," said Thon. "These can then be supplemented with IoT connectivity, predictive maintenance and digital monitoring. For example, for monitoring or predictive maintenance, the full transparency on the performance of traction power networks enables peak loads to be predicted and avoided. This enables train timetables to be optimized by energy demand and consumption, which ultimately reduces energy consumption."
He notes that Siemens Mobility's Sitras Sidytrac RT solution will be able to save customers up to 15 percent in energy consumption.
"For maintenance, the analysis of data from the network further speeds up action to needed areas. For instance, operators can now more precisely locate defective sections in the third rail and quickly send maintenance crews, minimizing downtime," said Thon. "This modular availability is also being used more for protection devices. Our Sitras MDC protection and control unit is available in modules, so customers can use only what is really needed and simplify servicing."
Siemens Mobility also addresses cybersecurity by offering a comprehensive concept for IT security that ranges from risk analysis to continuous monitoring and IT security training.
Thon points to the increasing adoption of Building Information Modeling for the planning, design and construction of new projects, which result in a "digital twin" of the system.
"This 'digital twin' is a computer-generated model that provides object-oriented, parametric and digital 3D depiction of the planned system. Here, it is possible to play out extensive simulations that ensure system conflicts are avoided, risks of delays are reduced and project implementation can be expedited. At Siemens Mobility, we use Sicat Master together with Bentley Open Rail to apply standardized and automated work processes for planning catenary systems.This significantly reduces project engineering time, as well as results in improved design quality," said Thon.
Modeling as a confidence booster
Editor's note: The following section was submitted by Ethan Kim, P.E., with Paul Chedrawi, P.E., Edward Manning, and Richard Rauceo, P.E., LTK Engineering Services, Inc.
Based on third quarter 2018 ridership data published by the American Public Transportation Association, transit ridership on heavy rail, light rail, and commuter rail has been steadily declining since 2010. Ridership changes typically result from increases in transportation alternatives, fuel costs, or the state of the economy. However, some transit authorities are seeing ridership reductions from aging infrastructure, overcrowding, and capacity constraints. Agencies often respond to these challenges by extending the length of trains or running them more frequently. Both solutions can severely stress the existing traction power system, which is best examined via simulation and modeling before changes to the operation are made. These models provide key information for understanding the capabilities and limitations of traction power infrastructure and allow transit agencies to financially prioritize system improvements.
Solutions: LTK uses its TrainOps® simulator software to perform traction power load flow modeling. It takes a holistic approach to the dynamic modeling of train operations by simulating the vehicles, signal system, traction power system and track in a single model. As a result, the model can determine the change in an individual train's power draw based on all the other systems' changes. Dynamic modeling will uncover sometimes-hidden operational capacities, system limitations, or specific weak links in the traction power chain. This provides critical information transit systems and railroad operators can use to make important infrastructure upgrades. The process is unlike other constant power or constant current modeling methods in which vehicle performance is not adjusted in real time. In those models, train voltage and performance are calculated in a separate module that does not feed back into the electric network, resulting in inaccurate train loadings and locations.
Technology applications: The applications for dynamic modeling include assessing traction power and operational system limitations; prioritizing traction power improvements to coordinate with the commissioning schedule of new vehicles or increase in service and capacity; evaluating the feasibility of new operational schedules; evaluating wayside and onboard energy storage systems; and identifying construction sequences to minimize disruption to service. The results from the studies provide the framework for the design of the traction power system.
For models that require further correlation to actual performance, onboard collection of data provides direct vehicle power analyses. Information such as train voltage, current, and GPS location are collected using data acquisition hardware, transducers, and GPS sensors, allowing engineers to pinpoint locations where power system anomalies occur and to correlate the model with actual daily operations. The combination of load flow modeling and data acquisition can reveal system performance characteristics with greater precision, allowing transit systems and railroad operators to make better-informed decisions and apply resources where they will have the greatest positive effect on the operation.