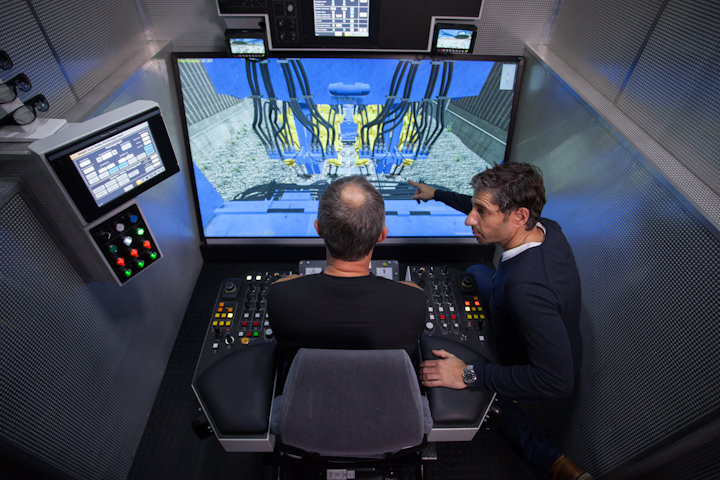 Plasser American Corp.
Among the many benefits digital twins can provide to asset owners, managers and maintainers, is their potential as a training tool. The bridge digital twins provide between their physical and virtual assets allows for simulations to improve operations, as well as enhance safety of the training process.
Plasser American
Plasser American Corp. says an all-encompassing digital twin can offer the scale of training that is almost impossible or too expansive to organize in real life.
"A tamper simulator is a good example of a digital twin used for training purposes. A tamper simulator artificially creates the environment in which a tamper functions for operator training. Instead of removing a tamper from service, scheduling track possession and incurring associated operational cost, operators can be trained in an office environment on many different track configurations such as tangent track, turnouts and crossings," explained Plasser.
The company notes that staff from different departments can be trained concurrently and the effectiveness of their decisions can be analyzed by running different operational and maintenance scenarios.
"For example, effects of specific maintenance and overhaul decisions on day-to-day business operations can be simulated in order to arrive at an optimal scenario that results in minimum disruption," said Plasser.
DXC Technology
"Modelling transit operations and physical assets opens huge opportunities to improve training, operations, maintenance and design. Operational technologies such as positive train control (PTC) allow train operators to simulate human response behaviours to operating scenarios on that railroad and leverage learnings during training," said Chris Lund, a partner in Digital Industry Consulting, DXC Technology.
He continued, "The data generated through PTC can be visualized through Geospatial Information Systems applications, giving real-time data on the status of all equipment on the railroad, not just in the rail control center, but on every desktop, mobile device and web application used by the agency and its stakeholders. This can be key for training on system enhancements. Historical information on line performance can be pulled up instantly with artificial intelligence supporting predictive analytics about estimated time to recover after an abnormal operating event. Lastly, layer in an enterprise asset management system that contains information about scheduled maintenance, asset criticality, reliability and performance and capital program plans. With that layer, the enterprise gains an information-rich picture of the operating context that enables it to respond more effectively to the situation, manage resources better and improve overall performance."
Bentley Systems
"Digital twins are commonly used to optimize the operation and maintenance of physical assets, systems and processes, but the same value can be applied to training purposes and to run operational scenarios. Rail and transit operators can visualize and understand the impact of large-scale infrastructure or other projects such as new rail lines, stations and bridges. The use of digital twins can save time and money by preplanning and preparing for onsite inspections and maintenance programs," said Bentley Systems, Inc.
The company says it has users who have used digital twins paired with physical entities, such as bridges, to help with monitoring and data analysis. The company explains that using digital twins helps infrastructure management teams assess future behavior and determine the required repair and strengthening measures needed to better manage their monitoring and inspection system.
"We expect to see the use of digital twins for scenario planning and training to increase as more agencies adopt digital twins into their practice. For example, users in other industries 'embed' processes into their digital twins, which can be used for scenario training of field workers before they enter the field. Although this isn't happening in large scale in the transit world yet, it will become a key use of digital twins in the future," said Bentley.
Strukton Rail
Willow Rail, powered by Strukton, provides predictive, actionable insight into operations including passenger transport and supply chain. Strukton Rail North America says this insight can be used to run operational scenarios that can be used for training and improved network management.
Strukton points to thyssenkrupp, which is using Willow Twin to create a digitalized virtual model of the physical building at its Innovation Test Tower in Rottweil, Germany. Strukton notes that this is being used to revolutionize the way buildings are maintained, as well as enhance the experience of tenants and visitors.
"thyssenkrupp is also using digital twins to model scenarios and responses to these scenarios, such as emergency responses within the building and testing mass evacuation. It is possible to take learnings from organizations, such as thyssenkrupp, and apply them to other industries, such as rail and infrastructure. Rail operators can run scenarios to test new ideas in a multitude of environments – before investing and without tampering with physical items in the supply chain. They can also use digital twins to run scenarios such as faults, train derailing, peaks in demand or emergency situations to help resolve the scenario in the most safe and efficient way," Strukton explained.
"We see a future where a rail operator can run full scenario planning on their rail network. This is about having an accurate digital twin of real-world performance today and in the future, and being able to make proactive, data-driven decisions to increase efficiency, minimize risk and experiment safely and economically," said Gerard Francis, general manager, Willow.
For more information about the potential digital twins may hold for the rail transit systems, please see Mass Transit's article, "More than a mirror image."