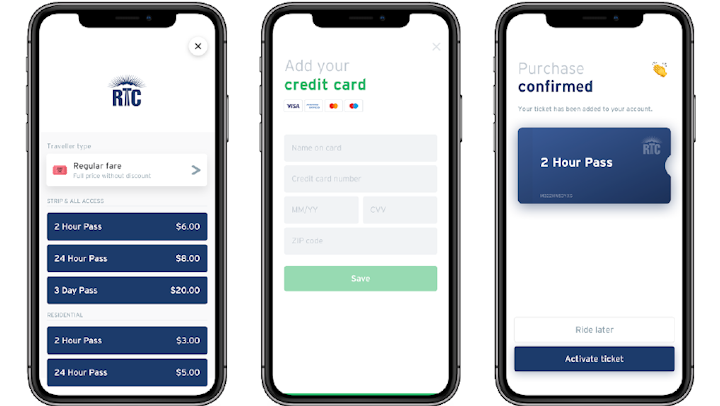 Transit
Passengers can now purchase passes for the Regional Transportation Commission of Southern Nevada (RTC) with the Transit app, which residents and visitors already use for trip planning, tracking their ride and making multimodal connections.  
This announcement builds upon Transit's partnership with the Southern Nevada RTC, which already directs riders to Transit for trip planning and real-time information. Each month, Transit's users in the Las Vegas area open the app a combined 3 million times, making it a part of everyday commutes for more than 1 in 10 daily Southern Nevada RTC riders. Transit helps people find new routes by combining RTC buses, the Las Vegas Monorail and RTC Bike Share, as well as first- and last-mile operators like Uber and Lyft. The addition of RTC passes to Transit, in collaboration with RTC's fare payment provider Masabi, makes the app an all-in-one solution for Southern Nevada's mobility needs. 
To purchase a pass with Transit, tap the "Buy ticket" button next to the RTC logo inside the app. Transit guides users through a step-by-step process to choose a fare type, enter payment information and activate their pass, which is then validated at a scanner onboard the bus. Transit users can purchase full-fare passes, as well as reduced fares and UNLV student passes using a valid card ID. Riders can also keep passes in a wallet inside Transit and use them when they're ready to ride. 
When RTC riders purchase a pass in Transit, they're also gaining the ability to purchase tickets with a single tap when visiting more than a dozen other cities across North America. With a Transit account, riders have a unified sign-in that allows them to enter their payment information just once to purchase multimodal tickets from a growing family of operators and fare payment providers, like the RTC and Masabi, working towards an open and connected system of mobility options across the U.S. and Canada.