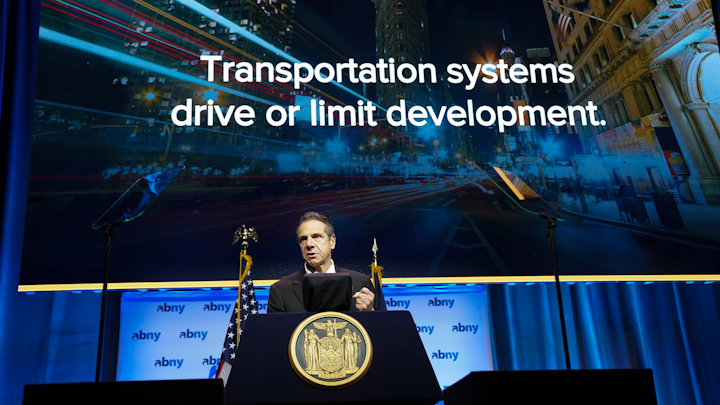 Office of the Governor of New York
New York Gov. Andrew M. Cuomo unveiled a proposal Jan. 6 to create the Empire Station Complex, which would transform Penn Station, integrate the under-construction Moynihan Train Hall and acquire the block south of Penn Station to create an expanded, remodeled and interconnected train and subway complex. 
The plan would be overseen by Empire State Development, which will establish a General Project Plan in collaboration with the Metropolitan Transportation Authority (MTA) and Amtrak. MTA will be responsible for the transportation planning components of the project and the plan to transform Penn Station.
"For over a century, New York's transportation infrastructure drove our growth, especially in New York City, and after decades of idle talk without any real action, we are once again investing in large public projects to support a stronger economy. We've built more than any state in the nation, and now we are taking another big step to address one of the weakest links in our transit system," Gov. Cuomo said. "This expansion in the block south of Penn — combined with the soon-to-be-completed Moynihan Train Hall and the transformation of the existing Penn facility — will create an interconnected, world-class Empire Station Complex that will expand capacity by 40 percent. This will improve how more than half a million New Yorkers commute, travel and work every day, while transforming Penn into the world-class facility the Empire State deserves."
New York Penn Station serves more than 650,000 passengers a day, which is more than the combined total of New York City's three major airports. The governor said Penn Station's corridors and waiting areas are overcrowded and its tracks are over capacity, which is only expected to get worse. The new complex support's the state of New York's efforts to reduce congestion and get more people out of their cars and into modern mass transit network.