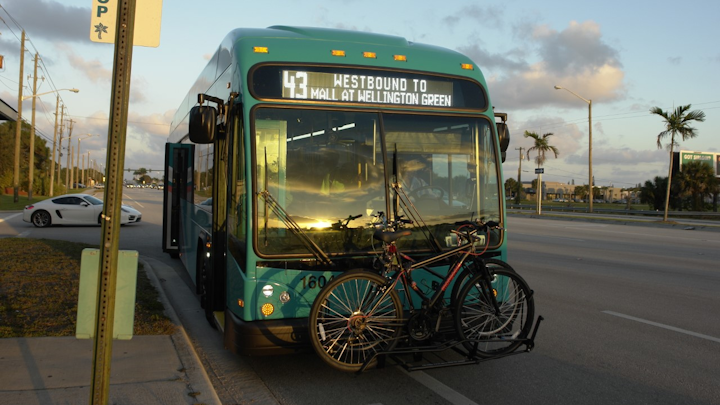 Palm Tran
Palm Tran's efforts to improve the safety metrics of its bus network has reaped impressive results. Palm Tran's most recent performance report revealed that there were zero preventable accidents in the month of October. This is a significant milestone in safety and service as well as a reduction from the three accidents reported the previous month. Palm Tran plans to continue this trend by deploying more tactics which exemplify its mission to provide access to opportunity for everyone; safely, efficiently and courteously. 
"This is the first month with no preventable accidents in Palm Tran history. Safety remains a top priority, and we will continue to increase safety standards and implement strategies that elevate Palm Tran as a premier transportation choice in Palm Beach County," said Palm Tran Executive Director Clinton B. Forbes.
Palm Tran credits the reduction to a variety of tactics. One of the tactics was training its bus operators to follow the LLLC (triple L.C) method which stands for: look around, look ahead, leave room and communicate. Palm Tran Senior Manager of Safety, Training and Compliance Richard McKinney noted how the acronym serves as a reminder of some of the important defensive driving tools bus operators should be cognizant of while on the road.
"They need to make sure they are driving defensively, not waiting until something happens. They have to be proactive in their approach," McKinney said.
Every month, McKinney puts together a narrative which is included in Palm Tran's monthly performance report. The performance report highlights accidents that have occurred more frequently that need to be addressed in upcoming months. If there is an increase in pedestrian accidents or side swipes, for example, then measures are taken to reduce these specific occurrences.
In addition, Palm Tran has bi-monthly safety meetings, as well as a safety message that is distributed monthly and also broadcasted on the radio every hour. This helps bus operators maintain their awareness.
"The bus operators are out there on cruise control because they drive every day for eight to ten hours," McKinney said. "What we try to do is make sure we put the attention and focus back on safe driving."
A common misconception customers have about bus operators is that they do not get distracted. McKinney notes it is important for passengers to remember that bus operators can get distracted by a number of things and need to keep their eyes on the road.
With continued support from the PT-STAT forums, the Executive Leadership Team (ELT) and Executive Director Forbes, McKinney believes Palm Tran will continue to see safety metrics improve.
"I think if we get that support and we're constantly talking about it and looking at our trends, we can have more than just that one month, we will see numbers that we have not seen before when it comes to safety and preventable accidents," he concluded.
For more information on Palm Tran, visit: www.palmtran.org.