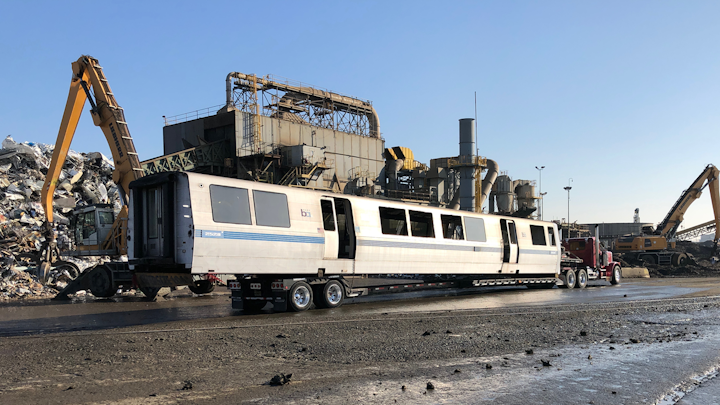 BART
The Bay Area Rapid Transit (BART) has decommissioned its first of the 669 legacy rail cars after carrying customers for more than two million miles.  
On Nov. 8, car 2528 was lowered by a crane onto the back of a big-rig truck. Its final journey was 20 miles through the gridlock of I-880 to Schnitzer Steel in Oakland, where its metal will be recycled. 
Car 2528 is the first of the 669 legacy rail cars to be retired as BART introduces its new Fleet of the Future cars into service.  
"As we bring the new generation of rail cars into our system, we need to make room to store them," said Dave Hardt, chief mechanical officer. "At some point within the next two years, we expect to be in a one-for-one swap situation – retire an old car to make way for a new car." 
BART has contracted with Schnitzer to recycle the first 10 legacy cars to help determine the value of the rest of the original fleet. Not every car will be recycled. There is interest from museums, fire departments and even artists. BART says it has been approached with people with creative ideas ranging from mini homes, parklets, covered bike storage and beer gardens. 
But before BART can determine where each of the 669 legacy cars will go, it will first retire a few cars at a time. 
BART says shop technicians were not sorry to see car 2528 go. It served the Bay Area well, beginning service in 1995. But, by 2014, it had become more trouble to keep running than it was worth. 
"It had propulsion problems. It would come into the shop, we would fix it, send it back out and an hour later it would break down again," said Bruce Grimes, rolling stock and shop superintendent. "We decided to start taking parts from it to use in other, more reliable cars." 
BART says it expects to save up to $2 million by reusing parts from old cars that are being decommissioned. Before the cars are turned over to Schnitzer, all hazardous materials are removed and properly disposed of. The list includes batteries, fluorescent lightbulbs and even the brushes in the electric motors. 
Five of the 10 cars being shipped to Schnitzer are C2 cars, the newest edition of the legacy fleet but the least reliable. They'll be stripped of many parts, including the trucks, the wheels and axles. 
The remaining five cars will be shipped whole – three B2 cars and two C1 cars. As for the iconic A cars with the sloped front with a train operator cab, BART will hold on to them for the time being.