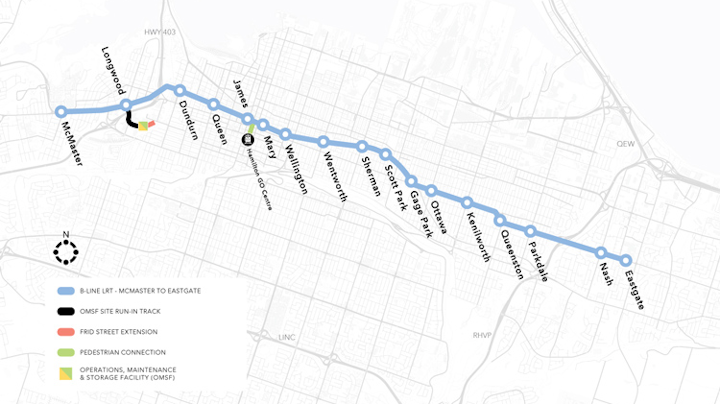 Metrolinx
Light rail was supposed to arrive in Hamilton, Ontario, through one of the city's largest infrastructure projects and be delivered along a 14-km (8.7-mile), 17-stop line connecting downtown Hamilton along Main and King Streets and on Queenston Road. The project was estimated to carry 12.6 million annual riders and provide connections with local Hamilton Street Railway service, multiple GO bus routes, the Lakeshore West GO train line and a new pedestrian connection to the Hamilton GO Centre.  
It was supposed to provide enhanced mobility and drive economic investment, until Dec. 16 when the province cancelled the project citing project costs that had grown to more than C$5.5 billion (US$4.18 billion). The province committed to spend the C$1 billion (US$ 760 million) marked for the LRT project in other transit investments, but the dust is still settling among the province's statements of fiscal responsibility and municipality's calls of deception.
Hamilton Mayor Fred Eisenberger and Andrea Horwath MPP, Hamilton-Centre, both called the cancellation of the project a betrayal.
"This investment would have created hundreds of jobs, economic uplift, increased affordable housing, cut CO2 emissions and built a city of Hamilton ready for the future," Mayor Eisenberger wrote in an open letter to Ontario Premier Doug Ford on Dec. 18. "Instead, millions of dollars have been wasted doing advance engineering work and preparations. Metrolinx is now one of the largest landlords in the city after acquiring dozens of properties needed for the route."
Municipal leaders are requesting more information about the reasoning leading to the high project cost estimate. Mayor Eisenberger says the city received preliminary cost estimates four days prior to the project's cancellation with no opportunity to probe further into the numbers. The cost estimate shows total capital costs estimated to be C$2.8 billion (US$2.13 billion), provincial operating term costs at C$984 million (US$747.92 million), other provincial costs at C$766 million (US$582.22 million) and municipal operating and maintenance costs of more than C$950 million (US$722.07 million) for a grand total of more than C$5.5 billion (US$4.18 billion).
"[Ontario]Minister of Transportation Caroline Mulroney and Metrolinx informed myself and city staff that the estimated cost of the LRT project have nearly doubled since they shared their recommitment and bench marking numbers. The true cost of the project would have been finalized when the request for proposals (RFPs) were delivered in March 2020. Estimates are estimates. Talking about numbers ahead of the RFP is malpractice," said Mayor Eisenberger.
"By including 30 years of estimated, likely overblown maintenance, operations and repair costs, [Premier] Ford is claiming the Hamilton LRT will cost C$5.5 billion for 14 [kilometers]. That's way out of line with other upcoming LRT projects," said Horwath.
She vowed to "to fight like hell to save the Hamilton LRT."
Horwath requested the Auditor General of Ontario investigate the matter and according to the National Post, the office has agreed to do so. On a secondary oversight front, Michael Coteau, MPP, Don Valley East, requested the Financial Accountability Office of Ontario also investigate the situation.