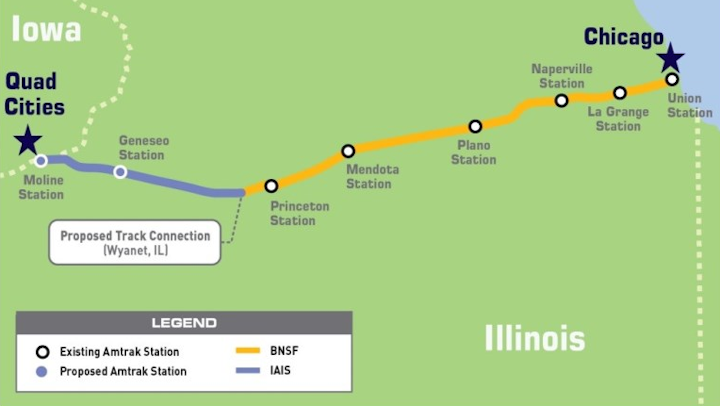 IllinoisRail.org
A project to connect Chicago to the Quad Cities via an Amtrak route has secured an extension until the end of 2024 for federal funding originally awarded under the Obama Administration.  
U.S. Sens. Dick Durbin (D-IL) and Tammy Duckworth (D-IL) and U.S. Rep. Cheri Bustos (D-IL-17), wrote two letters to the U.S. Department of Transportation (DOT) urging an extension to the $177 million in funds awarded in Fiscal Year 2010 through the Federal Railroad Administration (FRA). The elected officials cited delays in the project brought on by Illinois' previous governor and positive movement in negotiations regarding the scope of the project as reasons to support the extension.
"[The] announcement gives local communities in the Quad Cities the certainty needed to plan ahead for the new passenger rail service," said Sen. Durbin. "The future of this critical Illinois transportation project looks bright."
The $177 million in funding was awarded to the Illinois Department of Transportation to begin twice daily round-trip service between Chicago and the Quad Cities, with intermediate stops at Geneseo, Princeton, Mendota and Plano, Ill. The service was to be made possible by infrastructure improvements, including a new station at Geneseo, a layover facility in the Quad Cities area, communication and signaling improvements and the purchase of new passenger rail equipment.
Sen. Duckworth called the project critical to the state's transportation system and noted she will continue to work to make the project a reality.
"The completion of a rail line from Moline to Chicago would help grow the local economy, create jobs and connect folks from across our state with new opportunities," Rep. Bustos said. "[News of the extension] is the culmination of years of effort and will allow for our region to take the next steps forward to prepare for this crucial project."
Earlier this year, Illinois Gov. J.B. Pritzker signed the "Rebuild Illinois," a $45 billion infrastructure bill, into law. The legislation included $225 million for the Chicago to Quad Cities passenger rail project.
"Thanks to the governor's vision, the support of the General Assembly and the work of the state's congressional delegation, the historic Rebuild Illinois capital program is making an historic investment in transportation across all modes in Illinois," said Acting Illinois Transportation Secretary Omer Osman. "Under the leadership of Gov. Pritzker, we stand ready to deliver this critical project and many others like it that will create economic opportunity and enhance quality of life throughout our state."