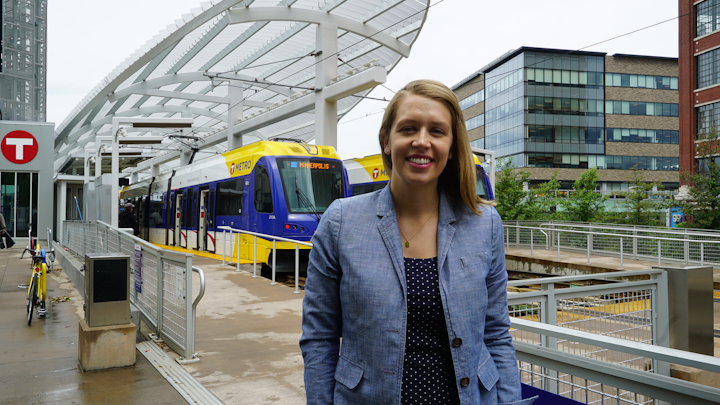 Metro Transit
Favorite TV show: "Game of Thrones"
Favorite movie: "The Princess Bride"
Favorite hobby: Traveling
Growing up in south Minneapolis, Joan Hollick found buses to be a reliable way to get to and from after-school activities. It wasn't until her college days in Chicago, though, that she developed an academic — as well as personal — appreciation for the role transit plays in day-to-day life.
Hollick has been applying what she learned in classrooms, on her commutes, and from her previous jobs with the Chicago Transit Authority to her role as deputy project director of the Southwest LRT Project since 2015. Hollick oversees the budget and grants, project controls, environmental, agreements and risk management functional areas.
After earning her undergraduate degree in international studies from Loyola University Chicago, Hollick stayed in Chicago to earn a master's in public policy and administration from Northwestern University.
Since Hollick never owned a car while living in Chicago, she relied on the transit system to learn the city and get around. After grad school, she took a job with the CTA where she learned how a legacy system operates and improves. She worked for the CTA from 2012 to 2015, first as a senior project consultant in the chief administrative office and later as a general manager of strategic implementation. In her roles at CTA, Hollick executed project strategy for a $10 million software deployment and re-engineering project to reduce costs associated with workforce absenteeism for 8,000 personnel across 33 locations. Her coaching eliminated inefficiencies in material distribution processes, resulting in annual cost savings of $100,000.
Metro Transit's Green Line Extension will help the corridor's growing population get to jobs and school. There are 64,300 jobs currently within one-half mile of its 16 planned stations. Southwest LRT will connect residents across the metro region to growing job centers such as Park Nicollet Methodist Hospital, downtown Hopkins, Opus Business Park, Optum corporate headquarters, Golden Triangle Business Park, Eden Prairie Center, and downtown Minneapolis. Three of Minnesota's 17 Fortune 500 companies are located on the Southwest LRT line, and another eight Fortune 500 companies are located on other planned and existing LRT lines. Southwest LRT will also connect students to educational opportunities at the University of Minnesota, Minneapolis Community & Technical College and Dunwoody Institute.
The Metropolitan Council expects to award its civil construction contract later this summer and to open the 14.5-mile line in 2023 to Minneapolis' southwestern suburban cities as an extension of the 4-year-old Metro Green Line between St. Paul and Minneapolis.
Rising costs for materials, labor and right-of-way, as well as project delays due to additional environmental review, freight railroad negotiations and civil rebidding, led this spring to a revised proposed budget of $2.003 billion. Southwest LRT will be the largest public works project in Minnesota history.
"I enjoy the people I work with. We have an exceptional team of people who approach every day as an opportunity to move the project forward."
"When you are building something new the path forward is not always clear. Try to keep an open mind when faced with challenges because there's always a plan B."