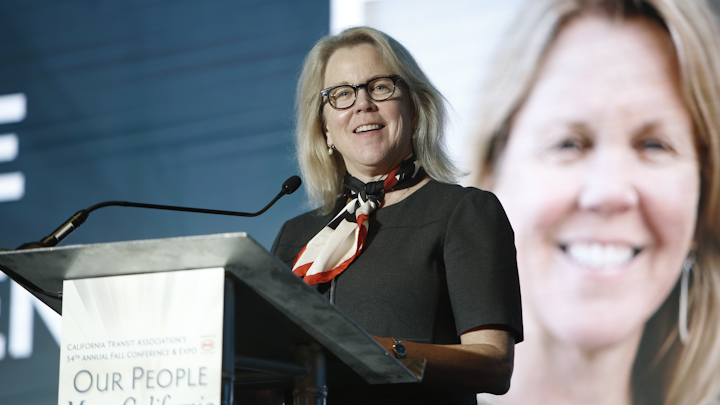 California Transit Association
The California Transit Association has elected Kate Breen, director of government affairs for the San Francisco Municipal Transportation Agency (SFMTA), as the chair of the California Transit Association Executive Committee for the 2019-2021 term.  
The election took place during the committee's meeting held Nov. 12 in conjunction with the association's 54th Annual Fall Conference & Expo in Monterey. 
A longtime active member of the executive committee, Breen served as vice chair during the 2017-2019 term and has previously served as chair of the association's State Legislative Committee, as well as chair of the association's Finance & Management Committee. She also participates on the association's Emerging Mobility Task Force. 
Breen began her tenure at SFMTA in 2001. As a member of the agency's leadership team, she directs the overall government and regulatory affairs responsibilities of the agency at the local, state and federal levels. Previously, she had worked for 11 years in legislative affairs with the Metropolitan Transportation Commission. 
"I am excited to step into this role at a transformative time for the public transit industry, recognizing the evolving mobility landscape, transit's key role in support of California's climate change objectives and the need to expand or right-size service to meet the demands of a growing population while keeping our systems in a safe and reliable state of good repair," Breen said. 
Breen succeeds Carl Sedoryk, general manager and CEO at Monterey-Salinas Transit, as the 31st chair of the association, which was founded in 1965 as the California Association of Publicly Owned Transit Systems. 
The Nov. 12 meeting also saw the election of Karen King as vice chair for the 2019-2021 term. King is the CEO at the Golden Empire Transit District. She is likewise a longtime member of the executive committee and serves as a member of the association's Small Operators Committee.