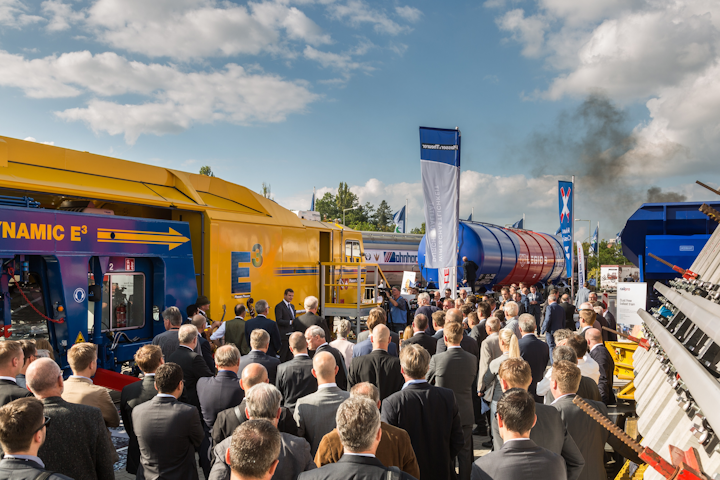 InnoTrans
Content, contacts, competence – from September 18 to 21 international trade visitors will again be able to find an extensive range of products, decision-makers in abundance and numerous innovations at InnoTrans. For four days the world's leading trade show for transport technology will be transforming the Berlin Exhibition Grounds into the place to be for the entire industry: for manufacturers of rail technology, transport companies, associations, politicians and scientists.
This trade show is ideally placed, and despite an initial backlog of bookings leading to a shortfall of 5,000 metres of display space, the organisers have now been able to find room for almost all the applicants wishing to exhibit here. The 41 exhibition halls provide trade visitors with many opportunities to look beyond purely national boundaries and to explore new sales markets. Over 60 per cent of the exhibitors will be coming from abroad, thus giving InnoTrans its well-known international flair once again. Joining the exhibitors for the first time is a delegation from New Zealand.
The 23 national and international associations set great store by teamwork. They are presenting their accumulated capabilities and innovative strengths on their combined stands. The countries represented include Australia, Denmark, United Kingdom, Japan, Romania, Sweden, Switzerland, Spain and the Czech Republic. Supported by 63 exhibitors, the USA and Canada will again be providing proof of their competitiveness across a wide range of the value-added chain. Among them are the multi-technology group 3M Corporation from Minnesota and the telecoms giant Cisco from California, which will be presenting its latest IT and network solutions. A chance to see further into the future of mobility is being provided by TransPod, a manufacturer of high speed systems. At the last InnoTrans the Canadian developers of visionary transport concepts introduced the Hyperloop, a maglev train that races through a vacuum tunnel at speeds of up to 1,120 kilometres per hour.
In addition to outstanding products and services, the two nations are also focussing attention on the subject of career development for young professionals. The professional associations REMSA (Railway Engineering Maintenance Suppliers' Association) und CARS (Canadian Association of Railway Suppliers) are sending four specialist students to InnoTrans. This is taking place within the framework of the 'Career Awards', which are sponsored by InnoTrans. There are career-based competitions which are organised around the world jointly with local associations and universities, and the various winners will be rewarded with a trip to Berlin.
Bus display powers up InnoTrans
The Bus Display provides an individualised concept for presentations by vehicle manufacturers and trade visitors at InnoTrans. The unique display area in the centrally located 'Sommergarten' combines a Static Display with 500 metres of test track, where buses can be demonstrated. With the need to combat climate change, the subject of electro-mobility is becoming increasingly important, especially in urban public transport. Mass transit companies such as Berlin's BVG are increasingly looking beyond national boundaries in the search for climate-neutral alternatives for the road. For them the Bus Display in September at InnoTrans offers a good starting point. Trade visitors will no doubt be taking a keen interest in the latest developments from five new, international exhibitors. For example, Alstom is introducing its 'Aptis' for the first time. With its bodywork and continuous low floor this electric bus is more akin to a tram. The Linkker 12+ is another vehicle which certainly offers enough power. The Finnish manufacturer Linkker has equipped its electric bus with a high performance lithium titanium oxide battery which, together with its short recharging times, gives it a daily range of up to 350 kilometres. 
The eBus Cluster group and component manufacturer Faiveley Transport will also be represented. The cluster is concerned with the systematic interconnection of three areas of technology, i.e. information and communication technology, vehicle technology and energy management, and well as combining a range of skills as systems suppliers. Innovative systems solutions for electrically powered buses are being developed and a one-stop shop for comprehensive systems solutions is provided. The Faiveley Transport product portfolio includes auxiliary power converters, air conditioning units and components for the entire power train for buses and rail vehicles. The fifth newcomer, LogPay Mobility Services, is offering trade visitors technical support in selling tickets through mobiles and online, as well as on behalf of employers.
Solaris from Poland is presenting two vehicles: the Trollino 12 trolley-bus and the battery-powered Urbino 12 electric public service bus. The latter was chosen as 'Bus of the Year 2017' and its manufacturer claims that it runs extremely quietly, with zero emissions and low operating costs. Sileo from Germany is exhibiting its bi-articulated Sileo S25 bus. Also among the exhibitors are VDL from the Netherlands and SA Lohr Industrie from France.
International Bus Forum makes its debut
In 2018 the Bus Display will be augmented by the International Bus Forum for the first time. This new format has been designed by the Association of German Transport Companies (VDV). 
Title: "Electric buses in public transport: A solution for clean air and environmental protection in urban traffic?"
Date: 20 September 2018, 2 to 4 p.m.
Venue: Hall 7.3, Berlin Room
NEW: Onboard Hospitality Forum explains "Railways as Hosts"
Railways are a form of transport offering passengers travel that is fast, safe and eco-friendly. However, the essential factor of 'comfort' is only attainable by providing outstanding onboard services, because if people feel good, they will return. An exclusive section at InnoTrans is devoted to this vital customer service: Travel Catering &Comfort Services (TCCS) as part of the Interiors segment. This focuses on innovative products and services featuring every aspect of catering facilities and services for rail transport. In this field InnoTrans welcomes five new exhibitors in 2018. This year trade visitors can again join in a separate TCCS thematic route that takes them directly to the stands of the relevant companies. From this year onwards context-related support is being provided by the Onboard Hospitality Forum. International speakers can discuss aspects such as the latest trends, best practices and service concepts with like-minded experts in catering and services. This is where trade visitors can find out how the railways can make the transition from being merely a form of transport to becoming hosts. The forum is organised by the International Rail Catering Group (IRCG) and Onboard Hospitality Magazine (OBH).
HackTrain Hackathon powered by InnoTrans
Hack Partners are extending an invitation at InnoTrans to participate in a 'Hackathon' – a kind of technology marathon for hackers. Software developers, designers and industry experts will be meeting over four days at the CityCube to work out some interconnected mobility solutions. On the Friday, the final day of the trade show, their results will be displayed at the Career& Education Forum in Hall 7.1c, with a prize for the most innovative solution. Trade visitors at InnoTrans can attend the presentation and, during the preceding period when the Hackathon is open to the public, they can also contribute their own knowledge. Details of the timetable can be found at www.innotrans.com/hacktrain. The Hackathon is being organised by Hack Partners. This company has several years of experience in organising coding events and is also a specialist in the rail transport industry.
Planning your visit
The North American office of InnoTrans, the semi-annual global railway industry trade exhibition and the largest event of its type, is offering discounted tickets to North American attendees. Show dates are Sept. 18-21, 2018 in Berlin, Germany.
The discounted tickets save more than 60 percent off the regular price. Tickets are EURO 25 and include access to free public transportation during InnoTrans. North Americans who plan a trip to InnoTrans 2018 can use the following registration link: https://mb-av-usa-innotrans.shop.secutix.com/