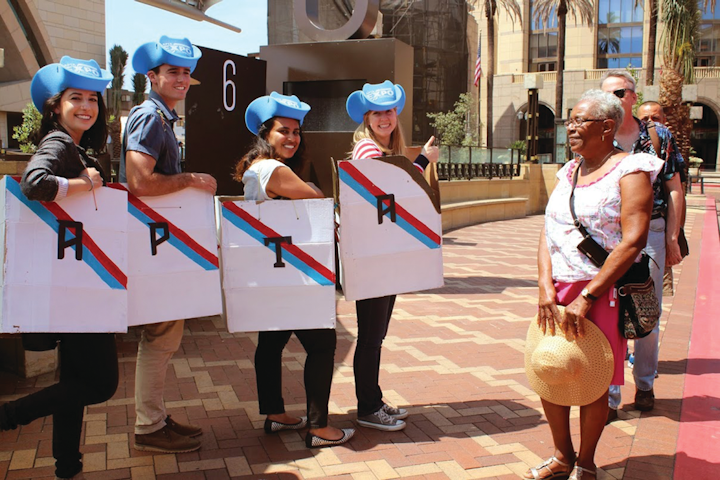 Jobs to Move America
When you look at Atlanta, Washington, D.C. and the San Francisco Bay Area, it's really a tale of three cities when it comes to their rail transit systems.
The Metropolitan Atlanta Rapid Transit Authority (MARTA), Washington Metropolitan Area Transit Authority (Metro) and Bay Area Rapid Transit (BART) all started around the same time, but grew at much different rates. While Metro and BART expanded and continue to open new lines, MARTA is about half the size of either of them and struggling to find ways to try and catch up with its peers.
Now Rhonda Briggin, senior director of external affairs for MARTA says the system is the middle-aged woman in needs of repairs while also needing an expanded network, which creates a unique situation in balancing capital needs and getting funding to meet those needs.
"We're not as old as Chicago or New York or SEPTA or Boston, but we're not as young as your North Carolina, your Dallas, your Austin Texas," she said. "We have to hold onto the past and also embrace the future." 
But in order to make sure MARTA gets the support it needs to maintain and grow the system, it needs to take steps to makes sure it happens without causing rifts with other agencies or politicians.
Working together
Being the biggest transit agency in Georgia, Briggins said MARTA acts as a resource for the smaller agencies and when they work to address transit needs in a holistic way by tackling common issues, such as "dumping" done by third party service brokers, who are contracted to provide services for seniors, but then pay a standard transit fare while being paid $18 per ride to provide that service in order to drive up a huge profit.
These issues can be tackled without MARTA getting mired in funding battles with other state agencies because it's the only one funded by a sales tax instead of from a general fund, so there's no competition for funds, Briggins said.
"We still exchange best practices and more importantly, we always tell them that we're in this together," she said. 
The evolution of the modern political landscape has forced a change in how to approach bills or tax policy for most entities and for some groups, they need to develop as their industry grows.
Darren Engle, director of government relations for propane supplier Blue Star Gas, said the company and the alternative fuels lobby used to take a more defensive approach to legislation by opposing bills harming the industry, but not pushing legislation. The company also took a more holistic approach to pushing for alternative fuels in general as opposed to just propane as it had in the past.
"Really this old way didn't help the cause, so we said let's flip this thing around," he said. "Let's start speaking to the legislator's about all the alternative fuels and start educating them, to be a resource to them, so when legislation came across their desk they would have a resource to help keep them educated on why there isn't just one silver bullet in solving alternative fuel development."    
Working with other alternative fuel lobbyists to push for a greater cause with lawmakers yields more results, but it doesn't make things easier. Engle said it can be much harder to keep all the lobbies working on task than the actual lobbying itself, but the additional work has continued to build the industry for fleets across the nation.
"I really believe lawmakers want to do the best they can, but they don't have the depth of knowledge on all alternative fuels, they just can't, so they rely on lobbyists as a resource to bring them up to speed on alternative fuels," Engle said. "So it can be very difficult for them to navigate when they look at what's all out there and that's difficult for them to wrap their minds around them and to make some very, very tough choices.
"They look at it more in which fuel do I choose for my state to move us forward in displacing gas and diesel. They don't look at it as a suite of fuels. We're asking them to take a step back. You don't have to choose a fuel. You allow the market to choose."
Madeline Janis, director of the Jobs to Move America Project said her organization looks to build a large coalition to show support for a bill when it's coming to the state, federal or local level. This means bringing together different entities, leaders, community non-profits and other potential supporters together to lobby both to politicians and to advocate to the public.
Janis cited the Chicago Transit Authority's recent decision to bid more than $2 billion for new railcars as one example where building a coalition got results to support Jobs to Move America's goals. When word came that CTA would be making a major railcar purchase, the organization reached out to city leaders, labor groups and Chicago area organizations to support the common cause.
From there Janis said it takes a framework of patience, passion and persistence to see results.
"We go in knowing what we're talking about," she said. "We go in with good research; we also go in with heartfelt passion for what we're supporting."
Changing to meet needs
Briggins said when she first went to the Capitol in Georgia and told them she represented MARTA, people would say to her "aw, little baby," because it was seen as horribly bad thing to have to do work for a transit agency. But after years of work, 2013 was the agency's biggest legislative year where everything it pushed passed. She attributes change in stature towards MARTA due to leadership change at the agency, educating legislators and making sure to follow through on all of the promises the agency has made in recent years.
"Another thing we did is we started to including them in the process and procedures about things going on both big and small," Briggin said. "We shoot and email and a phone call to the governor's office, an email and a phone call to the lieutenant governor's office, the speaker of the house and other key officials just to tell them 'hey, this is what's going on.'
"Every part of the process, good or bad, we give them a head's up to let them feel part of the MARTA family and to try and be part of the process and what's going on because it engages them."
Engle said it's important to develop the alternative fuels market in order to reduce costs and emissions, so lobbying for changes in policy or tax changes means educating lawmakers propane or natural gas or solar or wind energy are all pathways to these goals, but none of them are the only pathway. However, alternative fuels bring on some polarizing topics, especially with most conservative lawmakers, so Engle said he always tries to avoid polarizing words like "climate" given climate change is a topic where you either believe it's happening or current issues are only a small window of events from thousands of years of recorded history, so using the term can derail legislation easily.
"Most people have made up their minds, so all you can do is fight," he said. "But one thing we all can agree on is cleaner air and cleaner water and we know that's really valued by everybody."
Problems can also arise within alternative fuels supporters, who dislike natural gas or propane because they're still a fossil fuel and consider the options a bad answer moving forward.
"Solar, yeah, that's great, but that's not where the technology isn't there yet today," Engle said. "We need to work with bridge fuels to get to the technology of tomorrow, so we need to fill in the blank until we get down the road. We do have fuels here right here and now that are cleaner and less expensive and help us to get to where we need to go."  
Getting together a broad coalition to lobby lawmakers on the internal part of the process while simultaneously advocating externally means keeping a lot of different groups on the same message and deterring internal fighting between those who are supposed to work together. Janis said her organization tries to fend off infighting by making sure money is never put in the center of the table.
"I've seen that where during the negotiation with a coalition or negotiations around a project were all of a sudden the project proponent or developer of the infrastructure throws money on the table," she said. "It's like red meat. It can really cause a whole disruption in the coalition."
Tactics depend on government levels
Federal and state lobbying also differ greatly in approaching a problem, given federal lawmakers enact mostly tax policy when state lawmakers do more policy decisions on implementation. The state level is also an easier arena to get things done, Engle said because it has less moving parts than the federal level and less political polarization in most cases.
"When it comes to getting returns, it's more popular and easier to sell something like tax incentives or low interest rates. But anytime you're taking revenue money away from anyone it's a tough fight," Engle said. "Tax credits are really difficult right now given the state of the economy and budgets continue to be wiped out, so tax credits are really tough especially in budget years,"
Engle said there are less difficult policy decisions to push forward policy for something like alternative fuels, such as HOV access for alternative fuels for fleets or downtown free parking for alternative fuel vehicles. It pushes the cause forward by incentivizing a switch to alternative fuel vehicles in a community while not adding costs to the government,
"One of the questions we get from the more conservative sector is that if these alternative fuels are so great and save so much money, why incentivize them," Engle said. "Well the answer quite simple. It just depend on how fast or how quickly you want to achieve a goal and if you want to pass the natural pace of adaption. If you look back at when they first started putting out the electrical infrastructure, it would've happened at a much slower pace, so by incentivizing the use if alternative fuel it helps you get to the goal of emissions reducing.
"If you don't incentivize them, yes, you'll get there, but it helps if you kickstart towards that goal."
As 2015 deadlines for funding loom, and the U.S. Department of Transportation continues to push for approval of the GROW AMERICA Act, the 2016 presidential races will begin to flare up along with the already stagnated legislative process at the federal level due to political polarization between the parties. Janis said she knows working to get results through the current Congress is really difficult, but the administration continues to do a good job crafting a vision for future funding of transportation, but there are more ways outside groups can do their part to keep up support for transit funding.
"I do think there are many, many smaller proposals that add up to a lot that we can get through the federal level, state level and municipal level," she said. "The way we do it is by really investing the time and resources to build the support over time involving a broad base of people and using them to talk to the decision makers who will listen to what they have to say while also using external tactics, like going to the board meetings and press interviews, and always thinking about the message and how it's connecting the insider and the outsider.
"If we really know out stuff and we're smart on how we fully research proposals, I think using that set strategy, that sort of tactic can work anywhere. It's really about bringing that passion to the communities and that broad base together to work patiently and persistently to win."