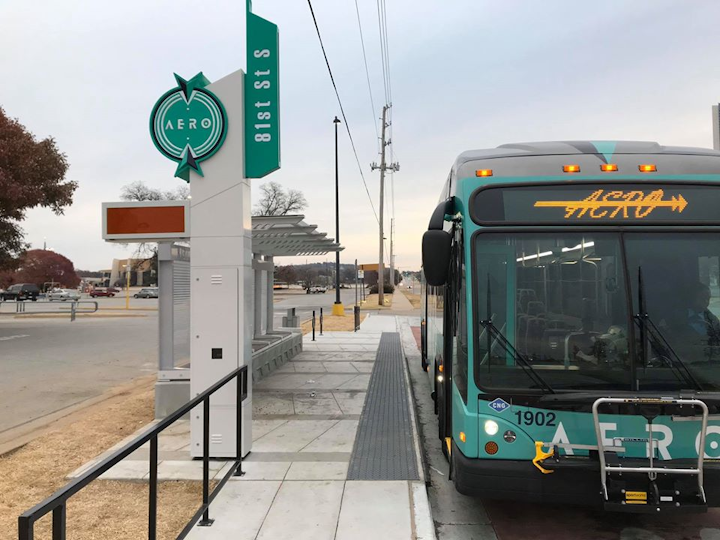 Tulsa Transit
The city of Tulsa, Okla., and Tulsa Transit will not officially launch service on the Aero Bus Rapid Transit (BRT) line until Dec. 19, but to spread the word about the BRT's service potential, riders can hop on the route for free during the month-long "beta test period" that started Sunday.  
The 18-mile BRT features 11 new buses serving 52 stations every 15 minutes during peak service and every 20-30 minutes on weekends. The BRT's vehicles and stations have been outfitted with enhanced amenities such as sheltered seating, bicycle racks, level boarding, onboard WiFi and charging stations, as well as real-time arrival signs.
"With our launch of the Aero BRT, Tulsa becomes one of the first cities in the United States to operate a bus rapid transit line," said Tulsa Mayor G.T. Bynum. "The new Aero BRT route will connect one in seven Tulsans with one in five job opportunities in our community, ensuring some of our city's greatest destinations, neighborhoods and educational opportunities are more accessible to everyone. It marks a transformation in the transportation options our city offers its residents and visitors."
Ted Rieck, Tulsa Transit general manager, added, "We want to provide excellent service to all Tulsans – those who rely upon it daily, as well as those who are using it for the first time. That's why we've developed this beta test period to have riders tell us what they like about the Aero and where we can improve going forward."
James Wagner, Tulsa Transit board member, explains that the average Tulsan spends about a quarter of their income on transportation costs.
"By offering excellent transit options and reducing that burden, Tulsans can instead invest that money in areas that build financial security and stability – and transform both the physical and social fabric of our community," said Wagner
The high-capacity transit line will connect people to jobs and many major destinations around Tulsa, including downtown, Cherry Street, Brookside, Pearl District, Phoenix District, Route 66, the BOK Center, The Gathering Place, Tulsa Tech Peoria Campus, Shoppes on Peoria, Oral Roberts University, Centennial Park and the Denver Avenue Station. Tulsa City Council Chair Phil Lakin called the Aero BRT service a game changer for Tulsa's residents.
"This is something our entire Council supports because of the positive impact that a strong public transportation service will create for our community's economic development and the quality of life of our residents," said Lakin.