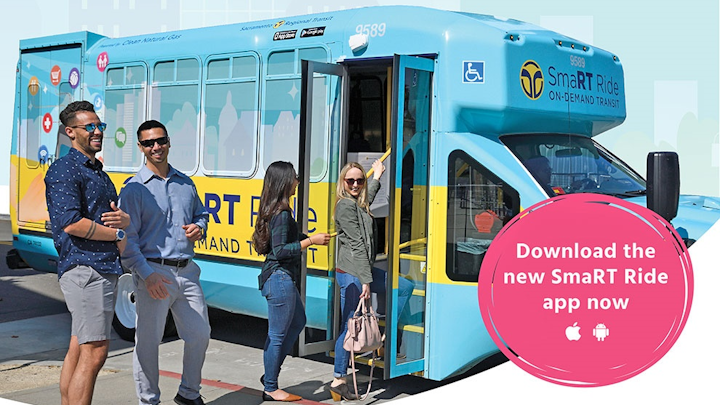 SacRT
The Sacramento Regional Transit District (SacRT) announced it is expanding its on-demand microtransit service to six additional communities, making SacRT the largest microtransit provider in the country with 42 shuttles, according to SacRT.
SacRT has also launched a new app for all SmaRT Rides users.
"We have seen great success with our other SmaRT Ride zones, and we are excited to be able to provide this innovative mobility option to more communities," said SacRT General Manager and CEO Henry Li. "This expansion is a huge milestone for SacRT as we continue to explore new transit options and improve access and mobility for our riders."
Similar to other ride-hailing services, SmaRT Ride relies on a smartphone app to schedule customized trips. The app, called SacRT SmaRT Ride, is powered by Via, a provider and developer of on-demand mobility solutions. Via's algorithms enable multiple riders to seamlessly share the vehicle in an efficient manner.
"We are thrilled to partner with our innovative friends at SacRT to bring Via's technology to Sacramento," said Daniel Ramot, co-founder and CEO of Via. "The all-new SmaRT Ride service is now the largest on-demand microtransit project in the United States, making it an excellent example of how public transportation and technology can work together to make a city smarter."
The service relies on small, neighborhood-friendly shuttle buses to easily maneuver on residential streets, and they conveniently accommodate people with disabilities.
The new service areas include:
Arden
Carmichael
Downtown-Midtown-East Sacramento
Folsom
Gerber-Calvine
North Sacramento
The new service zones offer corner-to-corner service where passengers are picked up and dropped off at the nearest corner or "virtual bus stop," which is usually within a block or two of their pickup or drop-off location.
Riders in the previously launched services zones in Citrus Heights-Antelope-Orangevale, Franklin-South Sacramento and Rancho Cordova will continue to use curb-to-curb service where passengers are picked up and dropped off at the address they indicated when scheduling the ride.
All SmaRT Ride users will need to download the new SacRT SmaRT Ride app. The new app is available to download for free on the App Store or Google Play. Following a SmaRT Ride request, the app provides passengers a text with an estimated pick-up time, allows passengers to track their bus in real-time and get an alert when their ride is about to arrive.
SmaRT Ride customers will also be able to request rides by calling 916-556-0100 or by going online to ondemand.sacrt.com.
The cost to ride is $2.50 per trip, $1.25 for those eligible for discount fare (seniors and persons with disabilities) or free for youth with the RydeFreeRT sticker or pass. Riders can also use their SacRT monthly pass. Groups of five of more are free; all riders must travel in a group of five or more from the same pick-up location to the same destination.
"SacRT is truly embracing the future of mobility by providing a more comfortable, convenient and affordable way to move around their community," said Sacramento Board Chair and SacRT Board Chair Patrick Kennedy.
The new SmaRT Ride service is provided through Measure A funding. SacRT was awarded with a $12 million grant by the Sacramento Transportation Authority to help expand microtransit into new communities throughout the region.
"The STA is committed to improving transportation options in Sacramento County. We are pleased to see SacRT's commitment to enhancing public transit and access for residents. We believe that SmaRT Ride does this by providing convenient transportation that is also affordable," said STA Chair Darren Suen.
As part of the SmaRT Ride expansion, SacRT also rolled out six electric SmaRT Ride shuttles in the Downtown-Midtown-East Sacramento service area. In the next six months, three additional electric SmaRT Ride shuttles will be operating in the Franklin-South Sacramento zone. Those three shuttles are being provided by Electrify America.
SmaRT Ride has been in operation since February 2018, when it rolled out as a pilot service in Citrus Heights. To date, SacRT has provided more than 160,000 SmaRT Ride trips.