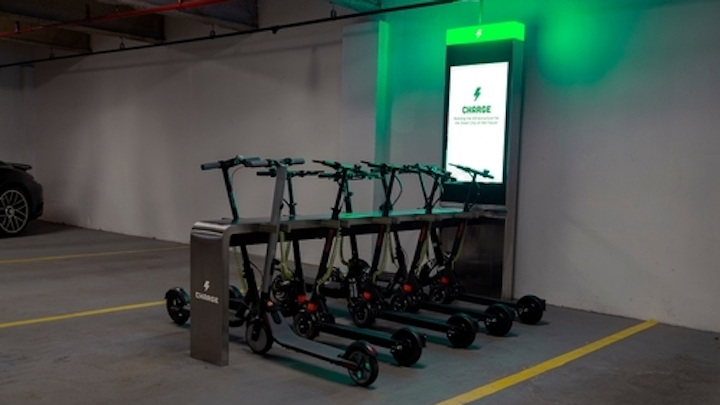 Charge
Charge has announced an expansion across the U.S. and Europe by securing more than 6,000 locations across the U.S. and Europe to install its micromobility-servicing infrastructure.  
Charge also announced it will begin experiment programs with 50 electric Charge SmartStations in Paris, Lyon, Lisbon and Milan.  
"With some cities housing over 50,000 shared e-scooters from operators such as Bird, Lime, Spin and Voi – and more landing every week – something has to give," said Andrew Fox, co-founder and CEO of Charge. "Cities are unable to cope with the extreme clutter caused by these vehicles and the race to build infrastructure for micromobility has begun. We provide a win-win solution for cities, scooter operators, riders and residents so that communities can implement a safe and sustainable strategy for electric micromobility."  
Enabling cities to safely welcome the 
micromobility
 revolution 
Charge says it provides a suite of micromobility-servicing infrastructure, including charging and parking solutions designed to bring order to the chaos of dockless e-scooters and e-bikes. Charge has landed contracts across the U.S. and Europe and is experiencing demand to implement its flagship products. These products include:  
Charge SmartHub: Mass charging centers capable of charging over 70 e-scooters simultaneously to support the gig-economy of juicers and chargers. Charge SmartHubs are located in dense urban areas to maximize charging capabilities while reducing downtime. 

Charge SmartStation: Battery-powered charging stations designed to address shortcomings of micromobility while cleaning up sidewalk clutter. Charge SmartStations are designed to make micromobility manageable for urban communities.   
The Charge SmartStation and Charge SmartHub detect which operators have e-scooters docked in each station and only charges the scooters for operators who have an agreement with Charge. Each operator is then billed by the percentage of charge, just as one might fill up a car at a gas stationn.  
"As a pioneer in the parking industry, we feel that the connectivity of the micromobility network with mass transportation is the next evolving urban technology solution,"said George Fallica, chief revenue officer, North America, REEF Technology. "We envision that parking garages will evolve to become the gas station of the future to fill electric vehicles and are thrilled to partner with Charge."  
Charge says programs in Paris, Lyon, Lisbon and Milan will begin in early 2020.