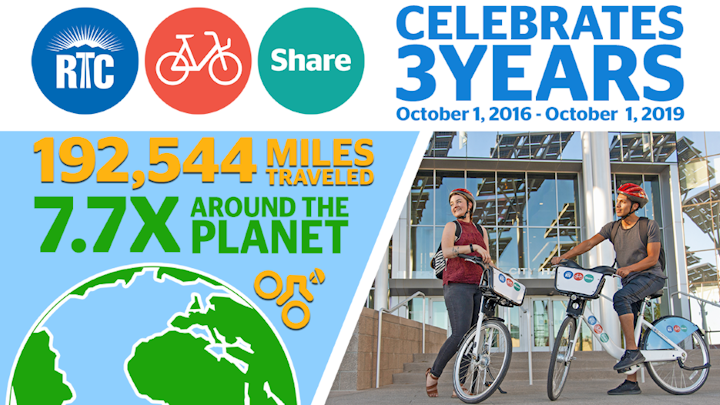 RTC
The Regional Transportation Commission of Southern Nevada (RTC) celebrates three years of bike share services in downtown Las Vegas by offering a $3, three-day pass with exclusive deals from downtown establishments throughout October.
In addition, RTC Bike Share will commemorate the official three-year anniversary with a Halloween-themed bike ride and costume contest on Oct. 26, sponsored by ReBar, a bar in the Las Vegas Arts District.
Milestones
An easy way for residents and tourists to ride to and from the many attractions, restaurants, bars and shops downtown Las Vegas has to offer, RTC Bike Share says it has enjoyed great success in its first three years of service. With 21 stations and 200 bikes, including the recent addition of 20 electric pedal-assist bikes, RTC Bike Share is living up to its "Bright Lights – Bike City" theme by making downtown Las Vegas a bike-friendly community.
Since inception, riders have completed more than 64,000 rides, while burning nearly 7.7 million calories. Over the last three years, pass holders have ridden nearly 193,000 miles, equal to traveling 7.7 times around the earth. The launch of electric bikes in August has also contributed to recent ridership increases with the e-bikes seeing at least three times more ridership than the classic bikes.
Special promotions
To celebrate the service's three-year anniversary, riders can save more than 65 percent on a 3-day pass in October. Normally $10, the 3-day pass will be available for $3 until Oct. 31, at all RTC Bike Share stations. Various local businesses will also join in the celebration with exclusive deals and discounts.
To cap off the celebration month, RTC Bike Share will host a Halloween-themed bike ride on Oct. 26 from 5:00 to 8:00 p.m., starting at the RTC Administration Building and ending at ReBar. The four-mile long bike ride will make stops at popular downtown destinations and conclude with food specials and the official costume contest sponsored by ReBar.