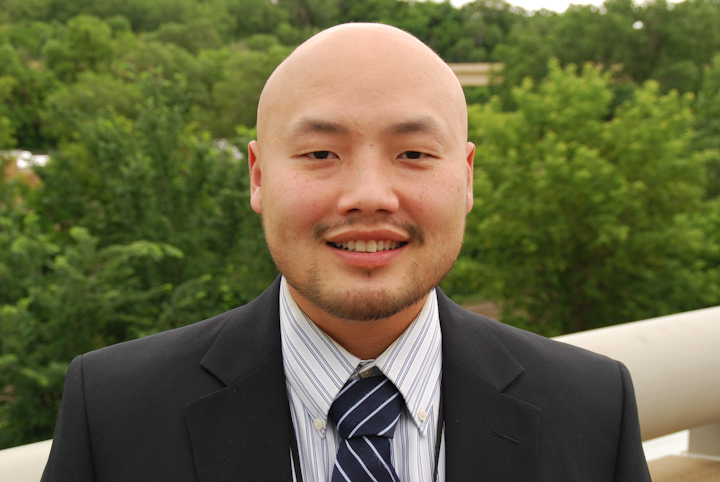 Metro Transit
Chang Yang
Assistant Transportation Manager
Metro Transit
Alma Mater: Century College and Metro State University
Favorite Book: Currently reading David Ramsey's "The Total Money Makeover"
Favorite TV Show: "Game of Thrones"
Favorite Movie: "The Pursuit of Happyness" and "The Family Man" 
Favorite Hobbies: Hunting, fishing, and everything outdoors 
Fun Fact about yourself: He is the oldest out of 8 kids; so a lot of responsibilities
Favorite Transit System (Outside of the one they work for): Chicago. He's impressed at their ability to move people around safely and efficiently in such a congested city. He also enjoys taking the L, zipping alongside buildings.
After working in law enforcement and with the National Guard, Chang Yang began his career in transit in the driver's seat. Encouraged by his father, a Metro Transit bus operator, Yang joined Metro Transit in 2004 and spent the next three years behind the wheel.
In 2007, Yang transferred to light rail and worked as an operator on the Metro Blue Line. Yang was soon promoted to a new role as transit supervisor, where he was responsible for supporting bus operations in downtown St. Paul and a number of surrounding suburban communities. While a supervisor, he was involved in emergency rescue operations following the collapse of the I-35W bridge and coordinated several detours when the Republican National Convention led streets in downtown St. Paul to be closed. Yang remains active in Metro Transit's emergency response and continuity of operations planning, working to ensure the agency is prepared in the event of a disaster.
In 2011, Yang became the youngest employee to become an assistant transportation manager. A native of Thailand who came to the United States as a refugee at a young age, the move also fulfilled his goal of becoming Metro Transit's first assistant transportation manager of Hmong descent.
Yang interacts with customers on a daily basis and works closely with bus operators, mechanics and staff from many other departments. Nearly half of the 70 operators Yang supervises have been hired within the last six months and rely on him for advice and guidance. Serving as a mentor to bus operators and seeing them get promoted and knowing he's had a direct impact brings him great honor. Always willing to give of himself, Yang continues to mentor several peers who, like him, hope to move into management roles.
"I've seen so many positive changes and marvelous expansions and additions to our services since I started here 12 years ago. I have 30 more years to go and am very excited for what's to come. I've seen the plans and I am ready to accept the challenges and will prepare myself be ready."
"I really enjoy working directly with the operators; they are the face of this organization. To see them improve on all aspects of their job and do a complete 180 is very satisfying. I know that having a positive attitude with operators has a direct impact on their performance and I always try to put a smile on their face when they leave my office."
"I enjoy the fact that we are a very diverse group of operators. We have operators who come to us from all walks of life. Some are ex-lawyers, doctors, teachers, police officers. I always tell the new operators that their loss our gain."
"Public transportation helps people from all walks of life. It helps takes people places. It gives people hope. It encourages new growth. It accommodates everyone. It does not discriminate on who uses it. It helps reduce the carbon print on this planet. It is reliable, it makes a difference in people lives. When I think about it, those characteristics of what public transportation is are also the characteristics of who I am. I love that about my career: what I do is who I am."
"The most challenging part of my job is when I have to discharge an employee. I never want to put anyone out of a job and make it hard for their family. I may not like letting employees go but I understand that it's a critical part and a necessity. It is in the best interest of the company and for the employee themselves. It's hard, but I try to help them see the silver lining in a difficult decision."

"We are in the people business. People don't care about how much you know until they know how much you care. No matter what position we all hold, remember that the only difference between everyone else and you is your job title. Be passionate about what you do because it really makes your career more enjoyable."
"Encourage your employees to learn and continue to grow. Let's invest in our employees. I always tell everyone to be preparing and bettering themselves so when the opportunity crosses them they will be ready. They may be your co-worker or even your boss one day. The future is coming no matter what, so let's all get there together."